Pray I get through this before I get interrupted or something. Pick two different kinds of fabric. You don't need a ton of either. I measured my scriptures ( LDS Quad. ) and it was 7 1/2 by 13ish. I then took those measurements and added 1.5 to it for seam allowance, bulk and turning. Mine ended up being slightly roomy which I like better. I read a tutorial that said add 1.2 but that was a little small for me the first time I tried it PLUS I like even numbers! haha
So you need
2 fabrics cut to 14.5 by 9 ( I used the same fabric for each but one will be on the inside so you can use two different colors if you want )
1 14.5 X 9 in interfacing
2 panels for inside 14.5 x 9 ( 14.5 X 4in piece of interfacing )
1 pocket ( but you can do two pockets if you like ) at 12 x 3
2 handles 14 x 4
1 Velcro closure at 7 x 2
All of these measurements are changeable. I wanted my fabric closure to be a certain size but you can do whatever you want. This is a very versatile tutorial. It is basically to show you how to do it and you can create your own measurements if you would like.
Let's get started!
I started with my handles. I took my fabric and you are basically going to be making basis tape. Fold it in half and iron it. Then fold the two sides into the middle and iron again.
It should look like this opened.
Do you see all three fold marks? Next fold it back up
and sew it down both sides to finish it off. Do the same with the second strap and put them off to the side.
The inside panels need interfacing. I cut the interfacing to be 14.5 x 4 which is half the width of the actual fabric. What we will do is fold the fabric in half and add the interfacing in between the fold. I use iron on interfacing. It should look like this
Next the pocket for the panel. I used a 12 X 3 in strip folded in half vertically to form a 6 X 3 in pocket. Make sure the right sides are facing each other.
Sew up both sides ( don't forget to back stitch at the ends. Clip the corners
Then turn it right side out making sure to get the corners out if possible ( I am horrible at this and usually have rounded corners! Booooo ) then press with an iron
Next pin it to which ever side you want it to go. I wanted my pocket RIGHT on the inside cover so I pinned it to the left panel. Remember to open it up before you pin it
Also, notice I put the open end of the pocket facing down because this will get stitched closed two different times later so you do not have to worry about it being open still. Stitch both sides down. Don't forget to back stitch at the top of the pocket on both sides.
Go ahead and set that a side for now too. If you haven't done it already make sure you add interfacing to the right side panel as well in the same manner you did before. Like this
Now for the velcro strap. I took two pieces of 7 X 2in strips, put the right sides together, sewed down one side, over the top and down the other side. Then I clipped the corners
Turn it right side out and press just like with the pocket. I then added velcro and sewed it down.
NOW let's pause for a second. You are probably wondering why I left it so the stitches show on the velcro closure. I am adding a flower to it so my stitches will not be visible. If you do NOT wish to add something to the strap, then add the velcro BEFORE you stitch the two pieces together.
Next I pin it ALL together. I have to apologize because the first time I did this I sewed it WRONG and had to un-stitching everything and re-do it. It was annoying and time consuming. SO my pictures might confuse you but just remember this order
Inside 14.5 X 9 in piece facing up!
Next, two side panels all the way over to the sides with the un-stitched pieces facing the outside.
Next pin the straps on each side being careful NOT to twist them. THEN make sure your velcro closure is on the RIGHT side of your case. The first time I put it on the left like a dumby and had to fix that as well...I was trying to get through it too quick. Slow is always better people. It should look something like this
JUST REMEMBER: I messed up the first time and had the interfacing side facing UP! WRONG! You should be able to see the right side of the fabric in the middle. Now take the last piece ( which will be the OUTSIDE of your case ) with the right side DOWN!
Everything should be in this fabric sandwich. Pin it all the way around the sides BUT remember to leave an opening for turning. So I don't forget to leave an opening, I always leave two pins together where I need to stop like this
Then when I get to it I KNOW to stop
NOW, put your hand inside of the hole and grab a handle to pull on.
JUST REMEMBER, you have pins inside still! I went ahead and pulled all 5 pins out BEFORE I tried to turn it because I knew I would poke myself otherwise!
Turn it all the way out, trying to poke the corners out as much as possible and press it all the way around. Make sure to turn the material where the hole is into the fabric to line it up with the rest of it. Pin that close and then stitch all the way around the outside. It should look like this
At this point you are thinking, "YEAH I am done!" Not quite. We have to line up where that velcro strap is going to be. Put your case on your scripture/Bible and pull the strap over to line it up. Then make a mark on your fabric where the velcro needs to be.
Sew the velcro down but be sure to pull out the inside panel so you don't sew it closed
YEAH! You are done. The inside looks like this
And the outside
Don't you just LOVE my Dr. Pepper PJ bottoms?! They are awesome. I love them. I used
THIS
tutorial for the fabric flower. On my last scripture case I put a ruffle on it like this
HERE
. If you would rather do one like this try this tutorial on making a ruffle
HERE
and then add it to the front piece before sewing together. That is pretty much it. ENJOY.
Let me know of any questions and please post links in the comments if you make one. I would love to see what you guys do!
Linking to some parties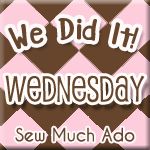 Show and Tell @
Blue Cricket Designs