I am in the process of making some gifts for my nieces and nephews in New Jersey. Wendy ( my SIL ) is having her SIXTH baby! I wanted to make some baby onesies but then I felt weird about sending only the baby a present. Of course that means making 5 other things. I lived with Wendy when Cody and I first moved to Texas. I say "I" and not "We" because Cody was in Kuwait pretty much the whole time. I took care of her kids a lot and so I really love her kids. I have only meet number 4 once and I have never meet number 5. We hope someday to reunite so we can meet 5 and 6. ANYWAYS. Number 4 likes Dora so I wanted to make her a Dora purse. Then I decided I wanted to make her a crayon roll so then I put the two ideas together.
Now, I found these on etsy.com for sale, but I didn't see any tutorials any where on blog land giving instructions on how to make one. Unless I just didn't put the right title into Google, which very well could be. Tutorials take time and I do NOT want to sit her and make a tutorial for something 20 people have already done one for. It is a waste of time in my point of view. That is why I do not have a lot of tutorials up because honestly people, someone some where has pretty much done all of them! haha
So I started with the inside of the purse because that is where the crayon holder will be. Here is a picture of what it turned out like.
I like that the purse is tall enough that you can put in both crayons or tall colored pencils.
Started out with 2 11X11in squares for the outside ( I used flannel )
then 1 11 X 5in piece for the pocket.
Let's start out making the crayon pocket. I took the fabric and ironed it in half like so
Then I added a 11X 2 1/2 in piece of interfacing
then I folded it back over to complete the pocket
I then placed the pocket about 3 inches from the bottom of the bag and pinned it in place. Apparently i forgot to take a picture of this step. But basically you sew it from one side, down the bottom and back around the other side. The sides are gonna be sewn again when you sew the bag closed but this will help keep it in place. It should look like this
Notice, I did a zig zag stitch along the bottom. This was to make sure I stitched down all three thickness and made the pocket stronger. Next you want to measure a little more then an inch into this pocket and sew a line right down the pocket. Back stitch at the beginning and end.
Remember you will eventually stitch around the sides and you want to individual crayon space to be big enough for big crayons or markers, so that is why I made it bigger then one inch to account for seem allowance. Make this as big as YOU want just remember to do it. Next I did 1 inches for each pocket ALL the way till you reach other other side. Remember to back stitch because the kids will be taking these crayons out and putting them back in like crazy so you want your stitches to hold!
Now you are ready to start assembling the two pieces for the inside of the bag. With right sides together, pin the bag from one side, down the bottom and around the other side.
DO NOT FORGET TO LEAVE AN OPENING IN THE CENTER FOR TURNING THE BAG! It should look like this once you have done that
next we want to make corners for the bottom of the bag. I wanted my bag to have a bottom so that she could fit a pad of paper and whatever else she wanted in it. Take the corners of the bag and pinch them together. With the bottom and the sides of the purse coming together at the seams. Make sure you line the seams up or it will look funny after you complete the step. Pin the sides down and measure out 3 inches across the bottom. This is confusing so let's look at a picture for clarification
I usually sew along this line several times to add strength.
Do this to both corners and then clip away the access corner. You will not need it ( but if you HATE to throw it away like I did, keep it and I will show you what I did with mine on a later post )
Now you can put the inside of the bag off to the side and work on the outside of the bag, which should be really easy. We got the "hard" part over with already. Take two 11X11in pieces for the outside of the purse
Pin them right sides together and sew from side, down the bottom and up the other side. This time YOU DO NOT NEED TO LEAVE AN OPENING FOR TURNING THE BAG. Sew ALL the way around the bottom. Next do you corners like before. Then turn the outside of the bag right side out and it should look like this
We are getting close to being done. Now we need to make the straps. I did not use interfacing because I used flannel which is thicker then normal fabric. If you want to use interfacing please add them to your strips here. I used 2 4 X 18 in strips. Take the strip and fold the ends into the middle and iron like so
Next iron it in half
Sew down both sides to complete the straps
Now we get to start pinning it all together! WOO HOO There are two ways to do this. I line up where I want my handles to be and I pin them on. YOu can leave them pinned or you can do a baste stitch to make sure they stay straight and don't move. I always just hope and pray ( and once I had to un-stitch everything and re-do it because it did NOT stay in place. It is up to you )
Notice the handles are pinned facing down ward towards the bottom of the bag. If you have never made a purse before this probably seems weird but trust me when I say it will end up the way it is supposed to be after the bag is done.
Next you take the inside of the bag and put it around the OUTSIDE of the bag.
Right sides should be facing. Pin them together all along the top. This is where the basting comes in handy. What I do is line up the sides of the bag first, then pin in towards the middle. When I get to a handle, I hold it in place carefully, un pin it and pin all three layers together. If you basted it, you don't have to worry about that.
Notice the right sides of the fabric and facing in towards each other
Now you are ready to sew. Make sure the handles are INSIDE of this sandwich. Sew along the top. Now you are ready to turn it right side out
Stick your hand inside the hole we left in the bottom of the inside of the bag and pull the outside out.
Now you can stitch the bottom of your bag closed either by hand or with your sewing machine. I think it looks better with the sewing machine but I just don't hand stitch well. Then push the inside of your bag inside and iron the top flat. Then I always add another stitch around the top to keep the inside of the bag down and it give it a more finished look. On this purse I used a zig zag just because it was for a little girl and I thought it would be more fun
And we are done people. It really doesn't take more then an hour or two ( if your kids allow you to do it )
Tada
At first I didn't like how tall the bag was and how skinny it was. After I tried putting the colored pencils in, I am LOVING how tall it is now since I know they fit. Hopefully that was easy to follow and no one got lost. Again, if you get lost, feel free to leave me a comment and I will try my best to help. If you have made a bag before, it should be easy peasy! ENJOY!! Also, come back later today or tomorrow when I show you the flower I made out of the corners to add to the purse.
Adding to some link parties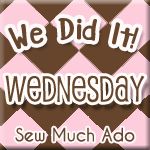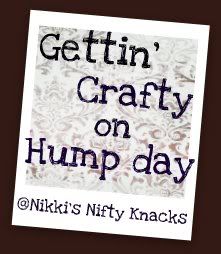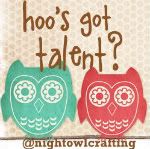 Sugar and Spice
Show and Tell @
Blue Cricket Design
Someday Crafts